Version Française
Les Toiles du 15,
Guest House
and Art
100drine and Dom Labreuil, painters and designers, welcome you to their home in Montaren and St-Médiers, a quiet and authentic village 4 kms from Uzes, between Nîmes and Avignon (TGV and airport).
This carefully restored 16th century Mas has been transformed into a Guest House with our private living space as well as our workshops. This ensemble of buildings is situated around a large square courtyard with an adjacent swimming pool protected from the wind and onlookers as well as a park with beautiful mature trees. A kitchen is at your disposal to prepare lunch or dinner. The house is completely decorated with our own artistic work, paintings, sculptures, ceramics... and arranged in our taste, between authenticity, vintage design and modern comfort.
Our concept: to make our Guest House a place of exhibitions and exchanges.
Les Toiles du 15, a privileged place in an atypical setting!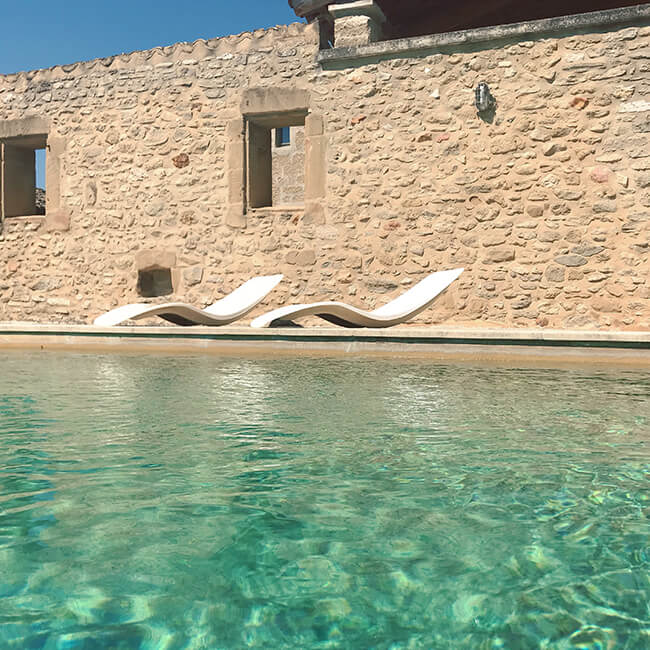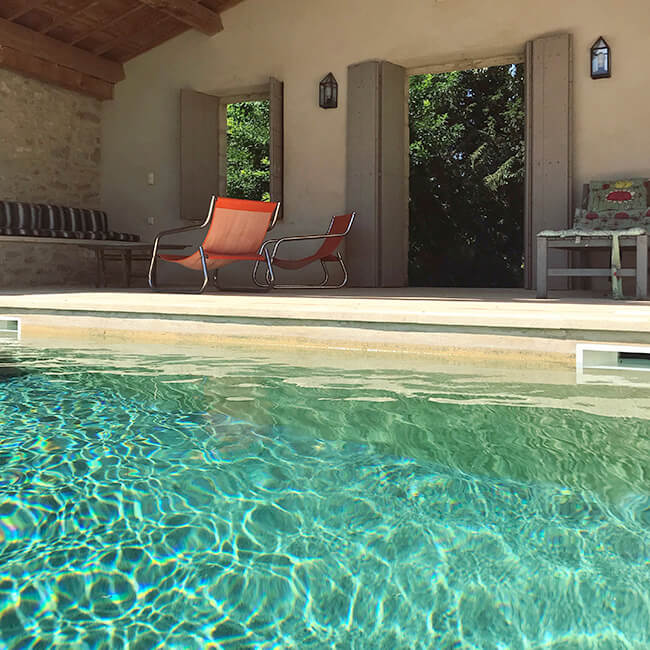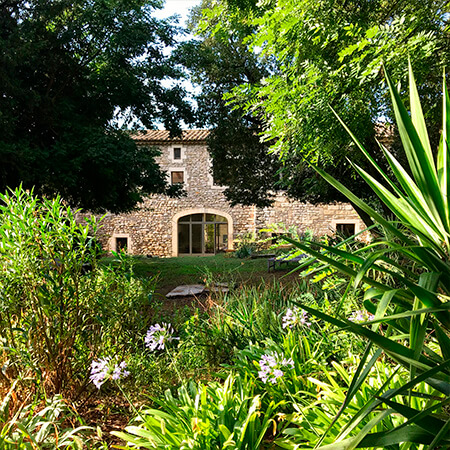 WELCOME
A 16th century Mas transformed into a combination of living space and artists' studios. A beautiful park with mature trees and a private swimming pool, a very privileged setting!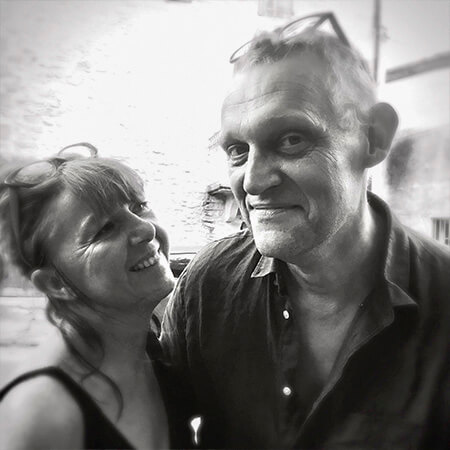 YOUR HOSTS
100drine and Dom Labreuil, designers, painters, visual artists, and ceramists welcome you to their home.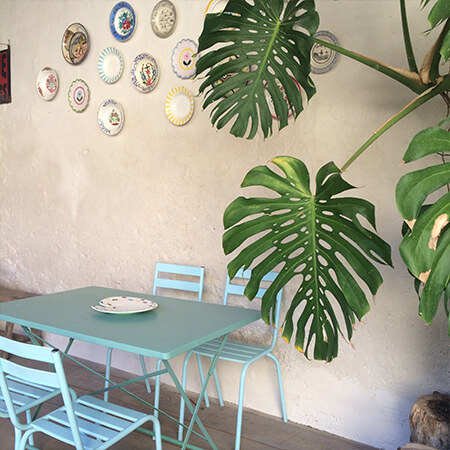 FRIENDLINESS
Les Toiles du 15, a place for relaxation, a gentle way of life and a taste for good things!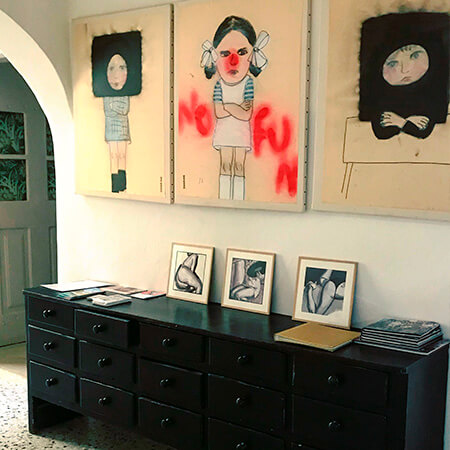 ART!
Art all around you! You will find the creations of 100drine and Dom Labreuil: sculptures, ceramics and paintings to discover during your stay.
ATMOSPHERES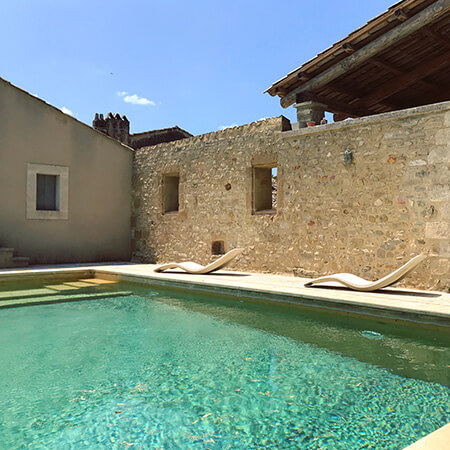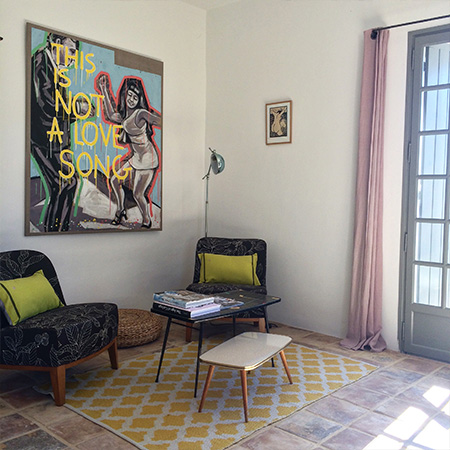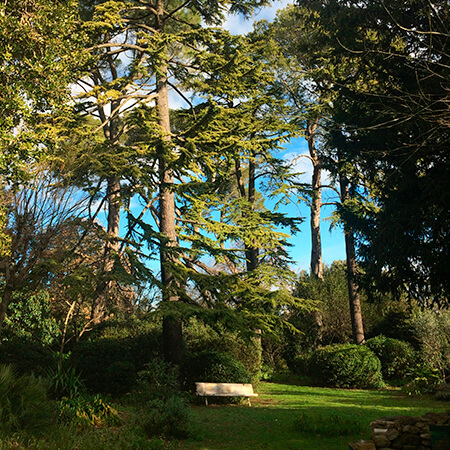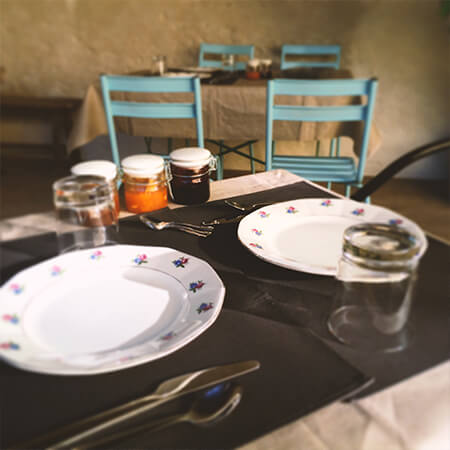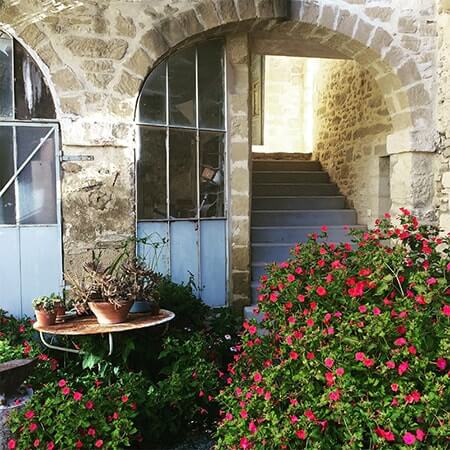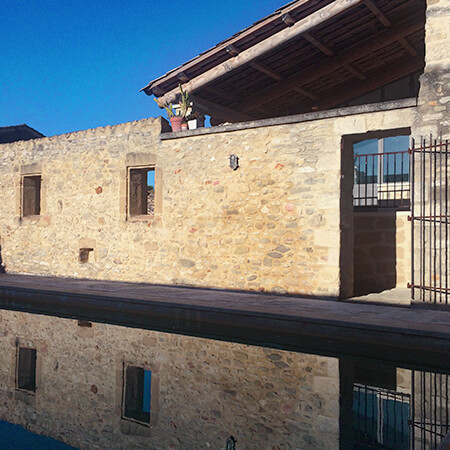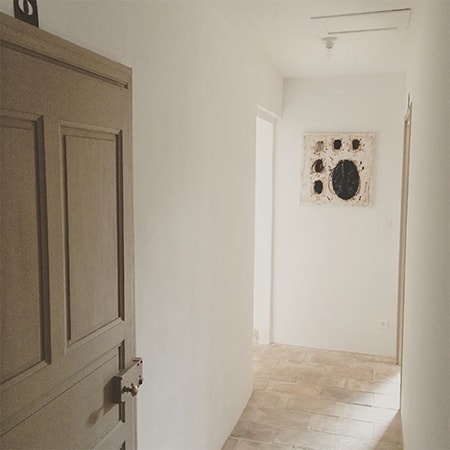 Bedrooms
All our rooms are located on the floors of the house. 4 of our rooms are air-conditioned (except room #5 which is to the north) and comfortable. They all have access to the large living room, the swimming pool, the park and the courtyard with its shaded terrace for breakfast, and throughout the day for a drink or to eat there.
Breakfasts are served between 8:30 am and 10:00 am, but the hours can be modified according to your activities. We offer a continental breakfast with selected regional products, seasonal fruits, homemade jams and yoghurts.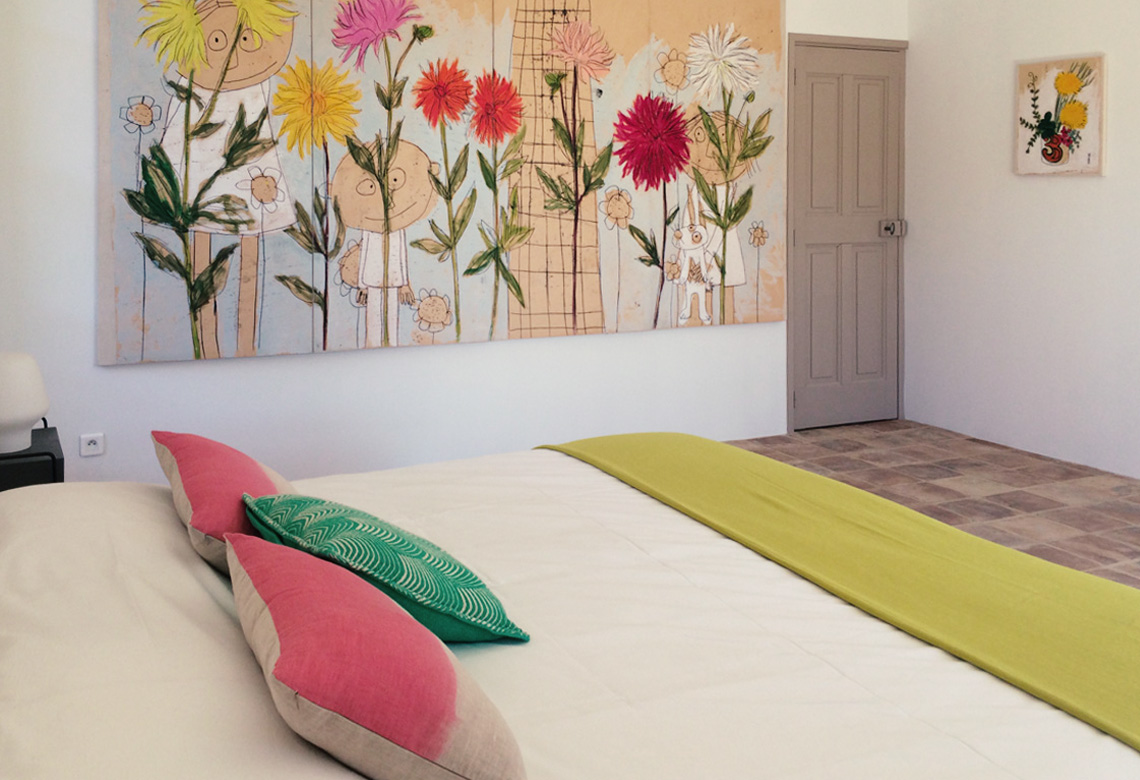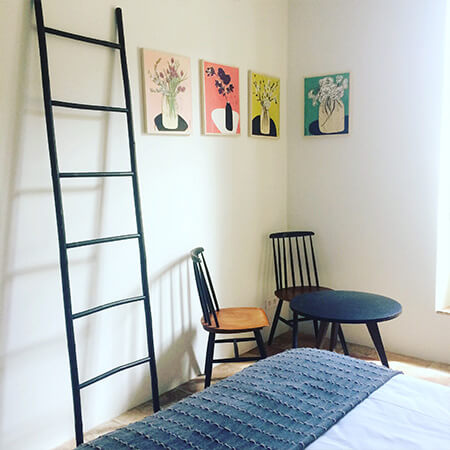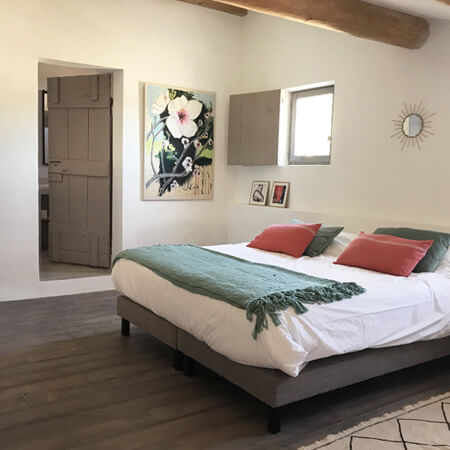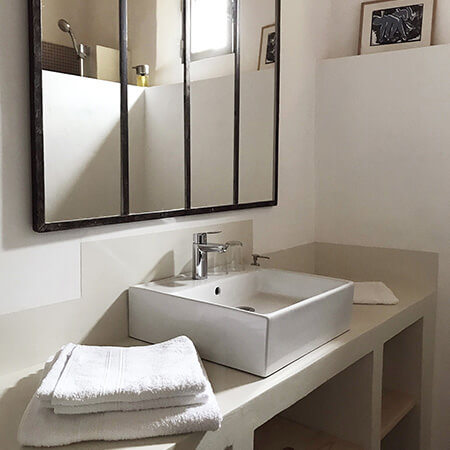 The Kitchen
At Les Toiles du 15, a fully equipped kitchen is exclusively at your disposal. Take advantage of the farmers' markets and prepare your meals with family or friends in this large and bright kitchen offering great conviviality! The kitchen opens onto the courtyard, where a pleasant shaded terrace awaits you for your aperitifs and meals.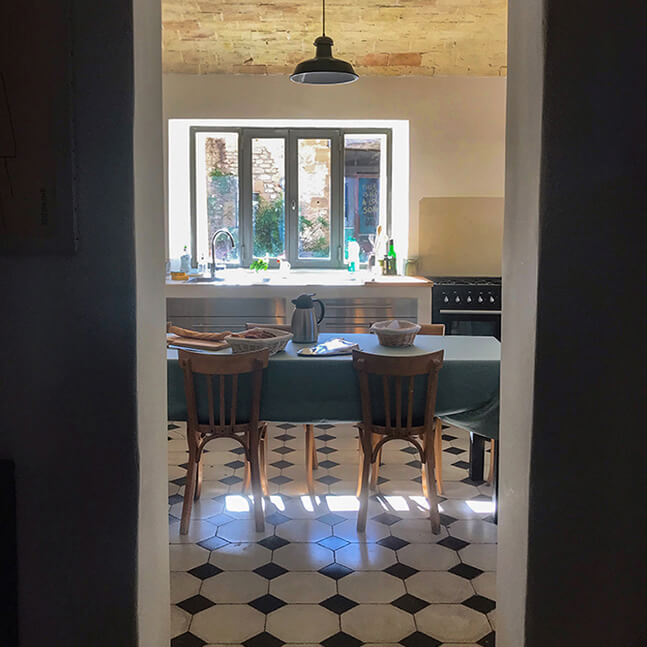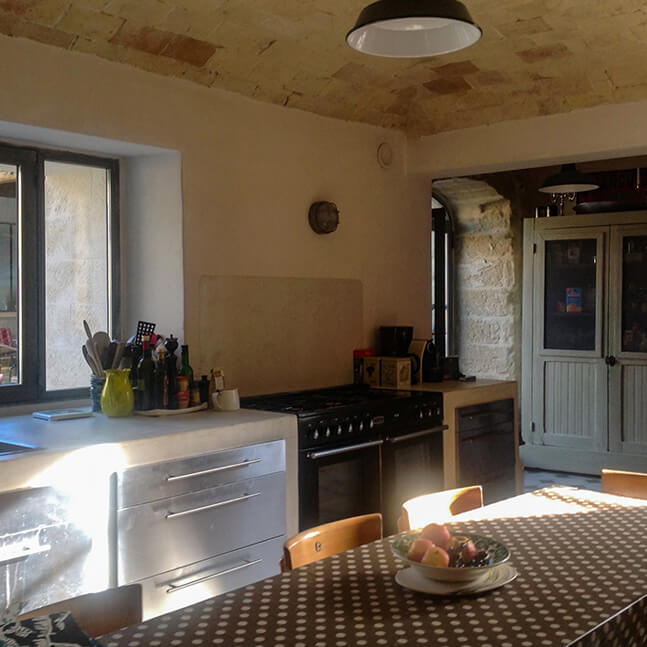 Our Workshops
Our workshops are open to the public and if you wish, it is with pleasure that we present our work to you.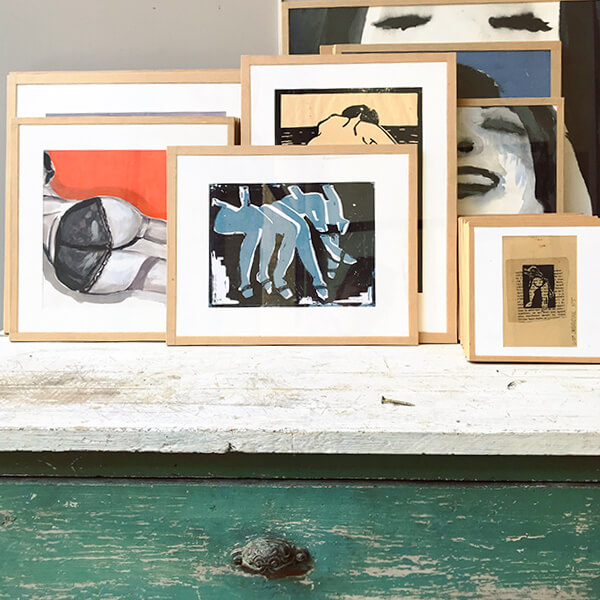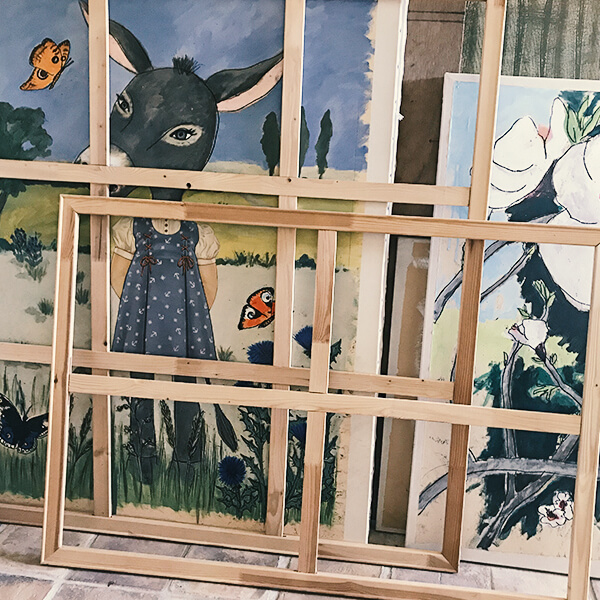 PRIVATIZATION
Les Toiles du 15 is also a place to be privatized to organize an event, your family reunions or holidays with friends... You will thus enjoy the entire guest house: 4 large bedrooms, a large and comfortable living room, a large kitchen, the pool and the courtyard.
As part of a full house rental in July and August, we rent for a minimum of one week.
Do not hesitate to contact us!